EVENT: Rhydian Lewis, CEO of peer-to-peer lender RateSetter – "The Cost of Certainty"
Wednesday 20th April, 9am-10.15am, Committee Room 14, House of Commons
New City Agenda is delighted to invite you to:
The Cost of Certainty
A talk by Rhydian Lewis, CEO of RateSetter
To register please contact dominic.lindley@newcityagenda.co.uk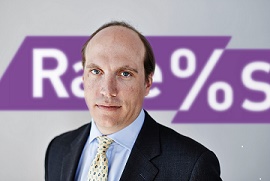 Rhydian will explore the fundamental concepts of risk and reward, exposing the cost premium associated with guaranteeing safety. Traditional deposit guarantees – the FSCS – come with a large price tag which is eventually borne by the consumer.
He will explain how RateSetter's pioneering Provision Fund is a simple and fair concept that brings transparency and builds trust that investors will receive the returns they expect.
Trust will be key for continued consumer engagement. In April, the Government launches the Innovative Finance ISA. This will allow investors to enjoy tax-free returns from their investments in peer-to-peer loans. The sector is helping to improve access to finance for both individuals and business and providing welcome competition to the traditional finance and investment industries.
"Why do we continue to accept a financial system that doesn't work in our best interest? Why do we let banks dictate what we can and can't have? Why don't we just cut out the banks and return control to investors and borrowers?"
To help answer this question Rhydian Lewis launched RateSetter in October 2010. Rhydian's objective in setting up RateSetter was to reduce the gap between what investors could reasonably earn and creditworthy borrowers could pay, cutting out the banks to deliver a better deal for both in a simple and secure way. Over £1bn has been lent via RateSetter, with over £500 million in 2015 alone.
Prior to launching RateSetter, Rhydian spent six years at leading financial advisory firm, Lazard. In 2015, Rhydian was named FinTech Leader of the Year in the FinTech Innovation Awards. RateSetter has won multiple awards, including Best Peer-to-Peer Lender in the FT / Investors Chronicle awards in both 2014 and again in 2015.
Do join us for what we expect to be an insightful event. Please could you confirm your attendance by contacting dominic.lindley@newcityagenda.co.uk